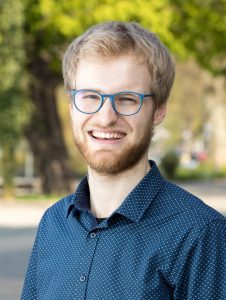 Simon Frank (*1995) was born and educated in Germany. There he studied music education at the State University of Music in Stuttgart majoring in singing, as well as history at the University of Stuttgart. In addition, he recieved a Bachelor's degree in choir conducting in the class of Denis Rouger. He gained further impulses from master classes with Frieder Bernius, Roland Börger, Michael Gläser and Dieter Kurz among others.
In the 2019/20 season, Simon was conductor in the Choir Academy of the Stuttgart Radio Choir (SWR Vokalensemble). He was the long-time leader of a church choir in Germany and is a passionate ensemble singer himself e.g. in the Württemberg Chamber Choir and figure humaine kammerchor.
Since August 2021 he has been taking his master's studies in choir conducting at the Royal College of Music in Stockholm with Fredrik Malmberg. In January 2022 Simon took over the artistic direction of Uppsala Vokalensemble.
You can find high-resolution pictures of the choir and the coductor here »