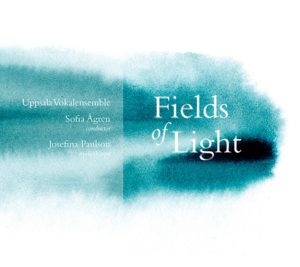 Nu släpps vårt senaste album Fields of Light även digitalt! Vårt skivbolag Footprint Records skriver:
A new amazing album with Uppsala Vokalensemble, Josefina Paulson (nyckelharpa) and Sofia Ågren – Dirigent (conductor): Fields of Light "…an exploration of Sweden's folk traditions, its distinctive light from dawn to dusk and the strain of melancholy that lies underneath its national songs and dances". Available in high resolution and surround.
Listen on Spotify:
https://open.spotify.com/album/5h3LGFZ0GM55DaEitkHRQm
Apple Music:
https://music.apple.com/se/album/fields-of-light/1510446085
Arkiv Music:
https://www.arkivmusic.com/classical/album.jsp?album_id=2302162&fbclid=IwAR3_jxRg9-QRpLAKna8zE10BmHS3M28VZxV5ByqeM0AHo8whYmBreaXfTEQ
Primephonic:
https://play.primephonic.com/album/7320470236727
With music by Matthew Peterson, composer and others.